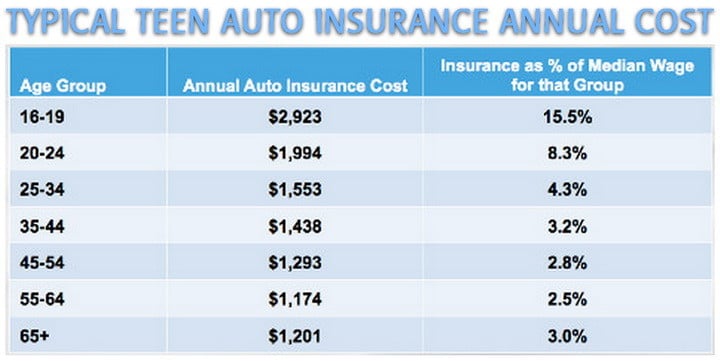 Teenager Car Insurance
Teenager car insurance is generally easy to find, but the skyrocketing cost of coverage is the problem. Why is auto insurance for teenagers so expensive? Teens are considered the highest risk group of drivers due to the number of accidents they are involved in (or cause) annually – far higher than any other group. This is not unusual when considering teenagers are the most inexperienced drivers on the road, can be easily distracted by practically anything, are forgetful, etc., etc, etc. This can often be explained by lack of maturity and brain development, hormonal activity, as well as social and peer pressure that's always present.
The annual average cost of teenager car insurance in the U.S. for 16 year old drivers is over $3,500, or almost $300 per month. Another rule of thumb for estimating this cost is by multiplying the parents' annual cost of insurance by a factor of between 2.5 and
This factor varies by state and locality, since the cost of insurance is always higher in more populated urban areas. So, if the cost of insuring the parents' car is $800 per year, teenager insurance premiums might be between $2,000 and $2,400 per year.

For many families, these exorbitant costs of car insurance represent a large percentage of the annual family budget. Taking advantage of all opportunities to reduce the cost of auto insurance is highly important for family finances, especially if you are adding teen drivers.

Tips for finding cheap car insurance for teenagers: The most important priority is to maintain a clean driving record – for all drivers included on the family policy. When adding teenager car insurance, the teen's young age and short driving history are a negative factor. Parents must take the time and train the teenage driver properly, and should be a good example by the way they drive and handle traffic stress. This will have a huge effect on how the teenage driver develops his/her early driving habits – either positively or negatively. Most insurance companies offer discounts for completion of defensive driving courses – sometimes as much as 10% – 15%. All family drivers should consider taking this step together. Creating a contract with the teenage driver specifying rules and restrictions, is a growing trend to promote responsibility. These should cover curfews, number of allowed passengers, no drinking, talking on the phone, or texting while driving.

Finding cheap car insurance for teenagers generally requires taking advantage of all possible discounts. Seeking and obtaining discounts also shows a great deal of responsibility, which goes a long way with the insurance provider. The most common teenager car insurance discount involves being a good student. Good Student Discounts are offered by most insurance companies, and generally allow a discount for maintaining a "B" average or better.

Common policy advice for insuring teen drivers is to add them to the parents' policy, if possible (of course you should also shop to compare). The teenager should also be listed as a secondary driver, preferably on an older car that's already paid for. This will be cheaper, and also allow for reducing the amount of coverage for collision and comprehensive coverage, again saving money. It might actually save money if the parents purchase an older vehicle specifically for this purpose, versus including teenager insurance on newer, more expensive vehicles. Parents should also take advantage of multi-car discounts, as well as multi-line discounts for keeping various policies with the same insurer.

Cheap car insurance for teenagers? Depends on your definition of cheap! Hopefully these suggestions will help you save as much money as possible, as well as encourage a responsible teenage driver.